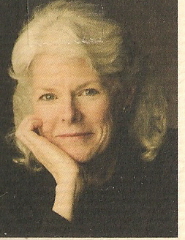 By Barbara Falconer Newhall
"I am a failure at prayer," author Barbara Brown Taylor confesses in her new book, An Altar in the World: A Geography of Faith. And, "to say I love God but I do not pray much is like saying I love life but I do not breathe much."
Now there's a woman after my own heart.
I belong to a group that meets twice a month on Mondays. Some people might describe it a prayer group. But I don't – because I, for one, am not that good at praying. Our group is good at talking, and we're really good at listening to each other. And, somehow or other, God seems to be there when we meet on our Mondays for a simple meal and reflection. But prayer — how to do it, why do it — has been the topic of much conversation in recent months.
Like me, Taylor expresses consternation at trying to formulate a clear theology and practice of prayer. The author of the acclaimed Leaving Church, she waits until the second to last chapter of  An Altar in the World  to finally bring up the subject of prayer. When she does, it is with trepidation. "I would rather show someone my checkbook stubs than talk about my prayer life," she writes.
"I have shelves full of prayer books and books on prayer," Taylor says. "I have file drawers full of notes from courses I have taught and taken on prayer. I have meditation benches I have used twice, prayer mantras I have intoned for as long as a week, notebooks with column after column of the names of people in need of prayer (is writing them down enough?) I have a bowed psaltery–a biblical string instrument mentioned in the book of Psalms–that dates from the year I thought I might be able to sing prayers easier than I could say them. I have invested a small fortune in icons, candles, monastic incense, coals, and incense burners."
Every once in a while, prayer overtakes Taylor and she is flooded with the Presence of Holy. But most of the time, she finds a more immediate sense of God in what she calls "enlarged awareness" – in paying attention — as she bites into a homegrown tomato, or sets the table for guests with her best dishes and silverware, or  pauses to notice the moon, round and full "like the wide iris of God's own eye."
An Altar in the World limns a spirituality of the everyday, of finding Holy in the feeding of the cats and the dogs, the family and the friends. It suggests that, instead of waiting for God to answer our prayers, we wake up to the fact that our lives are the very answer to the question we ask. The Sacred is right there in plain sight and always has been.
Maybe that's what happens to me when my Monday night group meets to eat, talk and be present  for God. I listen to the others speak. I offer up my own private stories — and I feel them coming back to me, intensified, enlarged and sanctified.
© 2009 Barbara Falconer Newhall
An Altar in the World: A Geography of Faith, by Barbara Brown Taylor, HarperOne, 2009, $24.99 hardcover.
My Monday Night Group has been the inspiration for a number of blog posts on prayer, including one on meditation.
I've also passed along some thoughts on prayer from noted religion writer Karen Armstrong. Also from a Benedictine monk who talks about "prayer without words," and a Native American who says if you're looking for God, "Go look at a rock."
Your thoughts? Click on "comment" below and tell us what you know — or don't know — about prayer.
Subscribe To Site: