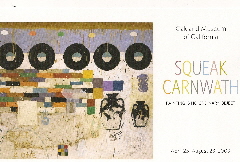 By Barbara Falconer Newhall
Squeak Carnwath's paintings — now on view at the Oakland Museum — strike me as consummately female. They muse, they introspect, they meander, they talk (lotsa writing on these paintings) — like most women I know.
Which makes me wonder how Squeak's work might have been received in an earlier era. Probably not at all. Her paintings lack that (male!) power and directiveness. They don't try for (masculine!) authority.
Instead they explore. A quotation at the entrance of the show puts it nicely: "The matter of being alive is something to be investigated."
It was my friend Nini who took me to see Squeak's show the other day, and we lost ourselves in it. The Oakland Museum exhibition represents the last 15 years of Squeak's work, a period in which Squeak has "come into her own," according to the docent who explained a few things to us.
The docent also explained those black disks, which I find harsh but which Squeak likes the looks of: They represent old-time phonograph records. Squeak shows only the records' Side One. And that, she says, is just like life: You don't get to see the other side.
Nini was taken with the shimmering, layered effects of Squeak's oil and alkyd  technique. I was too. There is a depth and complexity there that struck me — again – as feminine.
(I love art-viewing with Nini. She has a great eye: Witness the art museum of a house she's built, decorated and rents out in San Miguel, Mexico.)
Squeak is a California artist who's taught art for three decades. She taught (Nini) at the Univerisity of California-Davis, and is now a tenured professor of art practice at UC-Berkeley. She's had fellowships from the John Simon Guggenheim Memorial Foundation and the National Endowment for the Arts.
Squeak Carnwath's show was at the Oakland Museum of California in 2009. 
Enjoy!
© 2009 Barbara Falconer Newhall
Subscribe To Site: