By Barbara Falconer Newhall
No doubt about it. After opening up the short, sweet and succint In Praise of Doubt by sociologists Peter Berger and Anton Zijderveld, I'm feeling really good about my doubter status.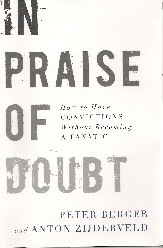 Doubt is what makes the difference between a person of faith and a fanatic, the authors assert. Faith is different from knowledge, as in, "I know that I'm in Boston; I believe that my life is in God's hands."
This is a fascinating book that touches on everything from the Enlightenment, Calvinism and the scientific method to Marxism, modernity,  fundamentalism, and the trend toward the secularization of everything.
The two authors make some useful, thoughtful distinctions along the way — for example between the words plurality and pluralism. Plurality describes a situation in which diverse groups live together and interact together, the authors note. Pluralism connotes a value judgement; it welcomes the reality of plurality.
Two very interesting minds are at work in this book. Enjoy!
In Praise of Doubt: How to Have Convictions Without Becoming a Fanatic, by Peter Berger and Anton Zijderveld, HarperOne, hardcover, 179 pages, $23.99, 2009.
Subscribe To Site: