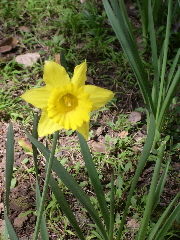 By Barbara Falconer Newhall
I don't like daffodils. I feel about daffodils the way I feel about some of my writing – too damned cheerful. Too nicey-nice. Too tidy. Too certain that in the end everything's going to come out just fine, that all shall be well.
I prefer irises. I especially like the bearded irises that are volunteering up and down the hills of our neighborhood right now.  Their swooping, swooning petals are downright lascivious. So are the fuzzy, yellow-brown genitalia cascading from their centers. These are not nice flowers.
Daffodils, by comparison, are starchy, unequivocal. They are trumpets of optimism playing to the sun. Last month, there were daffodils blooming all over the neighborhood, as if there had not just been a winter. And if by chance there had been a winter, as if there would never be another.
The trouble with daffodils is they have no subtext. They are all cheer and sparkle and optimism. They are avatars of perky. They get on my nerves, no doubt, because of that daffodil place in my psyche, which from time to time locates itself in my writing.
In my daffodil brain, everything happens for the good. Problems can be solved. Human beings are redeemable. God is in God's sweet heaven. And my 92-year-old mother, who's been lying in a hospital bed with a broken hip for the past five weeks, is not going to die. Ever. In just a few weeks, my mother and I will head over to Nordstrom again for lunch. As usual, she'll order the chicken salad with berries. I'll get the one with artichokes. After lunch we'll hijack Nordstrom's loaner wheelchair and scoot over to Macy's where things are more affordable. She'll sit in the wheelchair with her purse in her lap, credit card at the ready, and I'll roll her around the petites department. She'll ask me to back up to take a second look at the crisp brown and white linen jacket. She'll offer to buy it for me, I'll decline.
My mother will come through this hip thing just fine. She always has. She always will.
My daffodil brain does not write about my mother's spine, which is as curved and uncertain as question mark. It averts its eyes from the sun-damaged splotches darkening and growing across her cheeks. It makes excuses for the strings of nonsensical sentences coming from her mouth. (It's the painkillers talking.) My daffodil brain is too polite to type words like constipation, commode, diaper, droopy buttocks, crepey skin, thinning hair, boney knuckles.
No, my mother's days are not numbered and, therefore, neither are mine. My mother will not spend her last days in pain and uncertainty, wondering how God, or death for that matter, could possibly be real. And neither will I.
© 2010 Barbara Falconer Newhall
Subscribe To Site: