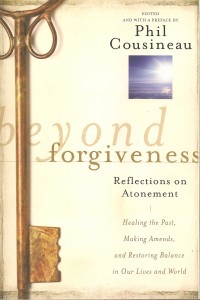 By Barbara Falconer Newhall
Forgiveness has gotten a lot of  ink and air time in recent years.
But what about the other side of the forgiveness equation? What's the role of the person in need of forgiveness?
Writer, filmmaker and TV host Phil Cousineau went looking for answers to those questions and the result is Beyond Forgiveness: Reflections on Atonement, a fascinating collection of essays on the topic of making amends. Among the contributors are Rabbi Michael Lerner; religion scholar Huston Smith; Arun Gandi, grandson of Mohandas Gandhi, and an AA member who writes anonymously.
Forgiveness as a spiritual practice has enjoyed a bit of a mini-trend recently. The Fetzer Institute  launched a four-year Campaign for Love & Forgiveness in 2006, for example. Five years later, the Institute reports that with a little encouragement people can indeed change. They can forgive themselves for their own mistakes, and they can choose to forgive someone rather than remaining angry with them.
The forgiveness process does wonders, of course, for the mental health of the aggrieved person who undertakes it.
But reconciliation — as opposed to forgiveness — entails bringing two elements together, both the willingness to forgive and the willingness to atone, writes Cousineau in his preface. "Without offering those who wrong us, however seriously, the chance to make amends, or granting ourselves the opportunity to atone for any hurt we have caused, we remain stuck in the past; we suffer from a kind of "soul rust" and are unable to live fully in the present moment."
Acknowledging one's mistakes and trespasses isn't easy, Cousineau points out, nor is finding a way to make amends, but the psychological and spiritual rewards are great for offender and offended alike.
Some intriguing reading here.
Beyond Forgiveness: Reflections on Atonement

By Phil Cousineau

Jossey-Bass, 2011

$19.95 paper
.
Subscribe To Site: