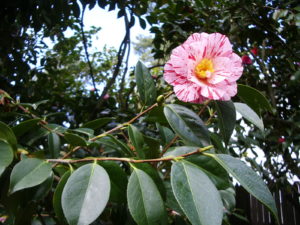 By Barbara Falconer Newhall
The first and greatest commandment, says Jesus, is to love God.
But how do we do that?
With warm fuzzy feelings? With praise and gratitude? With prayers for help in times of trouble (the kind that acknowledges our extreme dependence on God)? With good deeds? A careful conscience? By being "neither partial to the poor nor deferential to the great in our politics"?
How does God want to be loved?
I wonder whether Leviticus 19:2 is meant to be a clue: "You shall be holy, for I the LORD your God am holy."
In other words, do we love God by being more like God?
Or something like that?
Lectionary: Pentecost 19 Proper 25, RCL-A:
Deuteronomy 34:1-12
Psalm 90:1-6, 13-17
or
Leviticus 19:1-2, 15-18
Psalm 1
1 Thessalonians 2:1-8
Matthew 22:34-46
http://www.lectionarypage.net/YearA_RCL/Pentecost/AProp25_RCL.html
"The LORD spoke to Moses, saying:
"Speak to all the congregation of the people of Israel and say to them: You shall be holy, for I the LORD your God am holy."You shall not render an unjust judgment; neither partial to the poor, nor deferential to the great . . ."   – Leviticus 19:1-2,15
"When the Pharisees heard that Jesus ha silenced the Sadducees, they gathered together, and one of them, a lawyer, asked him a question to test him. 'Teacher, which commandment in the law is the greatest?' He said to him, '"You shall love the Lord your God with all your heart, and with all your soul, and with all your mind."' This is the greatest and first commandment. And a second is like it: "You shall love your neighbor as yourself." On these two commandments hang all the law and the prophets.'"    – Matthew 22:34-40
Subscribe To Site: