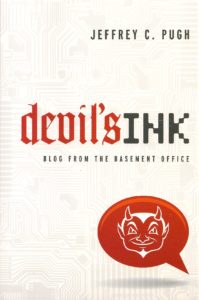 By Barbara Falconer Newhall
Who is the heck is this devil everybody keeps talking and writing about?
Jeffrey C. Pugh, a professor of Religious Studies at Elon University, NC,  has been speaking (ironically, of course) as the devil in his blog devilsinkblog.com and in his book, Devil's Ink.
And Louis J. Cameli, a Catholic priest, wants to help you to spot the Evil One in your daily life with his new book The Devil You Don't Know.
I say, God (for lack of a better designation) has made the world and is fully able and willing to take responsibility for the pain, misery and bad behavior that life in our beautiful, miraculous universe entails.
No need to blame our suffering – earned and unearned – on a guy with horns and tail just because our mammal brains can't fathom the workings of our huge and mysterious universe. God is Big.  Big enough to contain us and all the stuff we don't get.
© 2011 BF Newhall
Devil's Ink: Blog from the Basement Office, by Jeffrey C. Pugh, Fortress Press, $11.95 paper
The Devil You Don't Know: Recognizing and Resisting Evil in Everyday Life, by Louis J. Cameli, Ave Maria Press, $15.95.
Subscribe To Site: