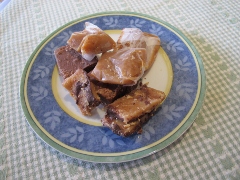 Christmas candy half gone . . .
By Barbara Falconer Newhall
My son Peter's girlfriend's mom has a lot of good qualities. She gardens, she composts, she giggles at my jokes, she adores my son. This is all good.
But what's really good about Liz is — what comes out of her kitchen.
Take the little bags of homemade fudge, nuts, toffee and caramel she dropped into our laps on Christmas Day.
No, you can't take them. We've already eaten them up. Jon and I unpacked our bags of candy on December 29 after we got home from Minnesota. And by yesterday, January 3, the candy was gone.
Gone, gone, gone. Like a lot of good things in life — my mother, my father, my friend Lynn, my cousin Jack.
Those people are gone from my future, but hopefully Liz and her homemade candy are not.  With any luck at all, Peter's girlfriend's mother will continue to adore my son, and little packages of candy will drop into my lap for years to come.
© 2012 text and photos BF Newhall
Subscribe To Site: